SoToxa Mobile Test System
RAPID DRUG SCREENING
---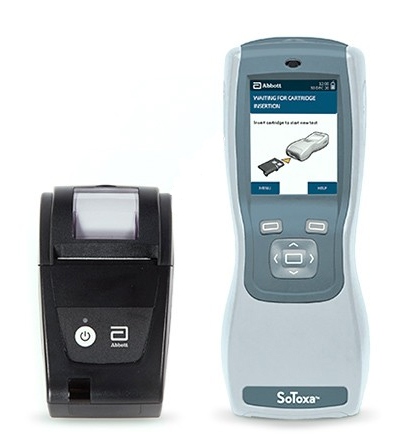 PORTABILITY
---
Handheld, lightweight, and compact.
Carrying case stores analyser, printer, and all components; small enough to fit into motorcycle storage compartments.
Optional car charging kit is available.

EASY TO USE
---
3-step testing process.
Each test cartridge has a Quick Response (QR) code to reduce user error.
The simplicity of the device minimizes user training requirements, allowing fast implementation.
Analyser interprets and determine the test outcome, eliminating the subjectivity of visually interpreted results.

FAST RESULTS
---
Collection device designed for active swabbing which speeds up collection.
Sample collection in 60 seconds or less3.
Volume adequacy indicator turns blue when enough sample has been collected. No timed collection.
Results in 5 minutes.
QUALITY CONTROL
---
When the analyser is turned on, start-up checks are automatically activated.
Positive and negative quality control cartridges (PQC and NQC) check that the analyser is interpreting results correctly.
QC testing can be enforced prior to each test: every day, week, or two weeks.
On-board sensors monitor test progress.
On-board heater ensures tests run at the optimal temperature, reducing variability.

DATA MANAGEMENT
---
Internal storage capacity of over 10,000 tests.
Printer is provided.
Desktop PC software can manage downloaded data for analysis and reports.
The SoToxa™ Mobile Test System is a handheld analyser that provides the optimal combination of speed, ease of use, reliability, and accuracy. The
analyzer has been designed and developed to meet the high-performance demands of law enforcement, empowering officers to take action with immediate test results.