Mindray BS-430
Chemistry Analyzer
---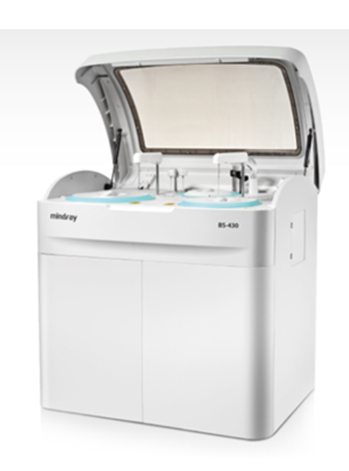 Precise pipetting system
---
Highly polished probes are equipped with multiple technologies to ensure accuracy and reliability. The minimum sample volume is as low as 1.5microL.
Efficient washing system
---
Interior and exterior washing reduces the carry-over of the sample probe to less than 0.05%. Pre-warmed de-ionized water and detergent ensure the cleanliness of cuvettes.
Intelligent mixing system
---
Stepper motors with speed monitoring optimize the mixing effect.
Advanced optical system
---
The technology-enhanced grating photometer effectively reduces the stray light and enhances the measuring accuracy of test results. The dot light source lowers the minimum reaction volume to 100microL and maximizes the cost efficiency. Prolong the service life of the lamp by auto sleep function.
Reliable heating system
---
The maintenance-free direct solid heating technology stabilizes the reaction temperature at 37°C. 24-hour refrigeration maintains the temperature of the reagent compartment between 2~8°C.
New software platform
---
Inherited from Mindray high-end products, the user-friendly software integrates more practical functionalities and makes itself more easy-to-use. The step-by-step maintenance guide allows maintenance to be easier and more comprehensive.
Total solution for clinical chemistry
---
Dedicate to providing a total solution for clinical chemistry with traceability to ensure the ultimate accuracy of test results.

Optimized integration of the whole system
---
All parameters are optimized during the integration to maximize the reliability of test results.

HbA1c smart-sampling
---
The smart-sampling technology allows on-board hemolysis for HbA1c.
BS-430 chemistry analyzer utilizes HbA1c smart-sampling technology, which allows onboard automatic
hemolysate preparation for whole blood samples, thus achieving shorter turnaround time (TAT) and
eliminating any biohazardous risks or any errors by manual operation.